Schedule 10 Concentric Reducer Butt Weld Pipe Fittings
Schedule 10 Concentric Reducer Butt Weld Pipe Fittings are available in A312 compliant dual certified 304/304L or 316/316L Stainless Steel with a mill finished inner and outer diameter (ID/OD). These stainless weld fittings conform to ASTM A403, ASTM A960, MSS SP-4, ASTM B16.9 (except wall), and MSS SP-43. Schedule 10 fittings are Nominal Pipe Size (NPS), not Tube Outside Diameter (OD). The walls of Schedule 10 pipe and fittings are almost twice as thick as standard 16 gauge Tube OD fittings, making them ideal for custom turbo manifolds and downpipe fabrication. The increased wall thickness provides added durability and is less prone to cracking under the high thermal stress from exhaust gas temperatures.
Additional buttweld pipe fittings are available in long radius 45′s, short and long radius 90′s, tee's and straight lengths for making anything from log style manifolds to equal length twin scroll manifolds. Great for use in conjunction with Vibrant Turbo Manifold Merge Collectors and 1/2″ Thick Mild Steel Manifold Flanges which are optimized for Sch. 10 fittings.
Note: These will not work with our Stainless Steel tube and tube fittings that are sized by the outside diameter.
Part Number
NPS
A
OD
Wall
Material
CRS104S-075050
3/4″ x 1/2″
1-1/2″
1.050″ x 0.840″
0.083″ x 0.083″
304/304L SS
CRS104S-100050
1″ x 1/2″
2″
1.315″ x 0.840″
0.109″ x 0.083″
304/304L SS
CRS104S-100075
1″ x 3/4″
2″
1.315″ x 1.050″
0.109″ x 0.083″
304/304L SS
CRS104S-125050
1-1/4″ x 1/2″
2″
1.660″ x 0.840″
0.109″ x 0.083″
304/304L SS
CRS104S-125075
1-1/4″ x 3/4″
2″
1.660″ x 1.050″
0.109″ x 0.083″
304/304L SS
CRS104S-125100
1-1/4″ x 1″
2″
1.660″ x 1.315″
0.109″ x 0.109″
304/304L SS
CRS104S-150050
1-1/2″ x 1/2″
2-1/2″
1.900″ x 0.840″
0.109″ x 0.083″
304/304L SS
CRS104S-150075
1-1/2″ x 3/4″
2-1/2″
1.900″ x 1.050″
0.109″ x 0.083″
304/304L SS
CRS104S-150100
1-1/2″ x 1″
2-1/2″
1.900″ x 1.315″
0.109″ x 0.109″
304/304L SS
CRS104S-150125
1-1/2″ x 1-1/4″
2-1/2″
1.900″ x 1.660″
0.109″ x 0.109″
304/304L SS
CRS104S-200050
2″ x 1/2″
3″
2.375″ x 0.840″
0.109″ x 0.083″
304/304L SS
CRS104S-200075
2″ x 3/4″
3″
2.375″ x 1.050″
0.109″ x 0.083″
304/304L SS
CRS104S-200100
2″ x 1″
3″
2.375″ x 1.315″
0.109″ x 0.109″
304/304L SS
CRS104S-200125
2″ x 1-1/4″
3″
2.375″ x 1.660″
0.109″ x 0.109″
304/304L SS
CRS104S-200150
2″ x 1-1/2″
3″
2.375″ x 1.900″
0.109″ x 0.109″
304/304L SS
CRS104S-250100
2-1/2″ x 1″
3-1/2″
2.875″ x 1.315″
0.120″ x 0.109″
304/304L SS
CRS104S-250125
2-1/2″ x 1-1/4″
3-1/2″
2.875″ x 1.660″
0.120″ x 0.109″
304/304L SS
CRS104S-250150
2-1/2″ x 1-1/2″
3-1/2″
2.875″ x 1.900″
0.120″ x 0.109″
304/304L SS
CRS104S-250200
2-1/2″ x 2″
3-1/2″
2.875″ x 2.375″
0.120″ x 0.109″
304/304L SS
CRS104S-300100
3″ x 1″
3-1/2″
3.500″ x 1.315″
0.120″ x 0.109″
304/304L SS
CRS104S-300125
3″ x 1-1/4″
3-1/2″
3.500″ x 1.660″
0.120″ x 0.109″
304/304L SS
CRS104S-300150
3″ x 1-1/2″
3-1/2″
3.500″ x 1.900″
0.120″ x 0.109″
304/304L SS
CRS104S-300200
3″ x 2″
3-1/2″
3.500″ x 2.375″
0.120″ x 0.109″
304/304L SS
CRS104S-300250
3″ x 2-1/2″
3-1/2″
3.500″ x 2.875″
0.120″ x 0.120″
304/304L SS
CRS104S-400150
4″ x 1-1/2″
4″
4.500″ x 1.900″
0.120″ x 0.109″
304/304L SS
CRS104S-400200
4″ x 2″
4″
4.500″ x 2.375″
0.120″ x 0.109″
304/304L SS
CRS104S-400250
4″ x 2-1/2″
4″
4.500″ x 2.875″
0.120″ x 0.120″
304/304L SS
CRS104S-400300
4″ x 3″
4″
4.500″ x 3.500″
0.120″ x 0.120″
304/304L SS
CRS104S-500300
5″ x 3″
5″
5.563″ x 3.500″
0.134″ x 0.120″
304/304L SS
CRS104S-500400
5″ x 4″
5″
5.563″ x 4.500″
0.134″ x 0.120″
304/304L SS
CRS104S-600200
6″ x 2″
5-1/2″
6.625″ x 2.375″
0.134″ x 0.109″
304/304L SS
CRS104S-600250
6″ x 2-1/2″
5-1/2″
6.625″ x 2.875″
0.134″ x 0.120″
304/304L SS
CRS104S-600300
6″ x 3″
5-1/2″
6.625″ x 3.500″
0.134″ x 0.120″
304/304L SS
CRS104S-600400
6″ x 4″
5-1/2″
6.625″ x 4.500″
0.134″ x 0.120″
304/304L SS
CRS104S-600500
6″ x 5″
5-1/2″
6.625″ x 5.563″
0.134″ x 0.134″
304/304L SS
CRS104S-800300
8″ x 3″
6″
8.625″ x 3.500″
0.148″ x 0.120″
304/304L SS
CRS104S-800400
8″ x 4″
6″
8.625″ x 4.500″
0.148″ x 0.120″
304/304L SS
CRS104S-800600
8″ x 6″
6″
8.625″ x 6.625″
0.148″ x 0.134″
304/304L SS
CRS104S-1000400
10″ x 4″
7″
10.75″ x 4.500″
0.165″ x 0.120″
304/304L SS
CRS104S-1000600
10″ x 6″
7″
10.75″ x 6.625″
0.165″ x 0.134″
304/304L SS
CRS104S-1000800
10″ x 8″
7″
10.75″ x 8.625″
0.165″ x 0.148″
304/304L SS
CRS104S-1200600
12″ x 6″
8″
12.75″ x 6.625″
0.180″ x 0.134″
304/304L SS
CRS104S-1200800
12″ x 8″
8″
12.75″ x 8.625″
0.180″ x 0.148″
304/304L SS
CRS104S-12001000
12″ x 10″
8″
12.75″ x 10.75″
0.180″ x 0.165″
304/304L SS
CRS104S-1400800
14″ x 8″
13″
14.00″ x 8.625″
0.188″ x 0.148″
304/304L SS
CRS104S-14001000
14″ x 10″
13″
14.00″ x 10.750″
0.188″ x 0.165″
304/304L SS
CRS104S-14001200
14″ x 12″
13″
14.00″ x 12.750″
0.188″ x 0.180″
304/304L SS
CRS104S-1600800
16″ x 8″
14″
16.00″ x 8.625″
0.188″ x 0.148″
304/304L SS
CRS104S-16001000
16″ x 10″
14″
16.00″ x 10.750″
0.188″ x 0.165″
304/304L SS
CRS104S-16001200
16″ x 12″
14″
16.00″ x 12.750″
0.188″ x 0.180″
304/304L SS
CRS104S-16001400
16″ x 14″
14″
16.00″ x 14.000″
0.188″ x 0.188″
304/304L SS
CRS104S-18001200
18″ x 12″
15″
18.00″ x 12.750″
0.188″ x 0.180″
304/304L SS
CRS104S-18001400
18″ x 14″
15″
18.00″ x 14.000″
0.188″ x 0.188″
304/304L SS
CRS104S-18001600
18″ x 16″
15″
18.00″ x 16.000″
0.188″ x 0.188″
304/304L SS
CRS104S-20001400
20″ x 14″
20″
20.00″ x 14.000″
0.218″ x 0.188″
304/304L SS
CRS104S-20001600
20″ x 16″
20″
20.00″ x 16.000″
0.218″ x 0.188″
304/304L SS
CRS104S-20001800
20″ x 18″
20″
20.00″ x 18.000″
0.218″ x 0.188″
304/304L SS
CRS104S-24001400
20″ x 14″
20″
24.00″ x 14.000″
0.250″ x 0.188″
304/304L SS
CRS104S-24001600
20″ x 16″
20″
24.00″ x 16.000″
0.250″ x 0.188″
304/304L SS
CRS104S-24001800
20″ x 18″
20″
24.00″ x 18.000″
0.250″ x 0.188″
304/304L SS
CRS104S-24002000
20″ x 20″
20″
24.00″ x 20.000″
0.250″ x 0.218″
304/304L SS
CRS106S-075050
3/4″ x 1/2″
1-1/2″
1.050″ x 0.840″
0.083″ x 0.083″
316/316L SS
CRS106S-100050
1″ x 1/2″
2″
1.315″ x 0.840″
0.109″ x 0.083″
316/316L SS
CRS106S-100075
1″ x 3/4″
2″
1.315″ x 1.050″
0.109″ x 0.083″
316/316L SS
CRS106S-125050
1-1/4″ x 1/2″
2″
1.660″ x 0.840″
0.109″ x 0.083″
316/316L SS
CRS106S-125075
1-1/4″ x 3/4″
2″
1.660″ x 1.050″
0.109″ x 0.083″
316/316L SS
CRS106S-125100
1-1/4″ x 1″
2″
1.660″ x 1.315″
0.109″ x 0.109″
316/316L SS
CRS106S-150050
1-1/2″ x 1/2″
2-1/2″
1.900″ x 0.840″
0.109″ x 0.083″
316/316L SS
CRS106S-150075
1-1/2″ x 3/4″
2-1/2″
1.900″ x 1.050″
0.109″ x 0.083″
316/316L SS
CRS106S-150100
1-1/2″ x 1″
2-1/2″
1.900″ x 1.315″
0.109″ x 0.109″
316/316L SS
CRS106S-150125
1-1/2″ x 1-1/4″
2-1/2″
1.900″ x 1.660″
0.109″ x 0.109″
316/316L SS
CRS106S-200050
2″ x 1/2″
3″
2.375″ x 0.840″
0.109″ x 0.083″
316/316L SS
CRS106S-200075
2″ x 3/4″
3″
2.375″ x 1.050″
0.109″ x 0.083″
316/316L SS
CRS106S-200100
2″ x 1″
3″
2.375″ x 1.315″
0.109″ x 0.109″
316/316L SS
CRS106S-200125
2″ x 1-1/4″
3″
2.375″ x 1.660″
0.109″ x 0.109″
316/316L SS
CRS106S-200150
2″ x 1-1/2″
3″
2.375″ x 1.900″
0.109″ x 0.109″
316/316L SS
CRS106S-250100
2-1/2″ x 1″
3-1/2″
2.875″ x 1.315″
0.120″ x 0.109″
316/316L SS
CRS106S-250125
2-1/2″ x 1-1/4″
3-1/2″
2.875″ x 1.660″
0.120″ x 0.109″
316/316L SS
CRS106S-250150
2-1/2″ x 1-1/2″
3-1/2″
2.875″ x 1.900″
0.120″ x 0.109″
316/316L SS
CRS106S-250200
2-1/2″ x 2″
3-1/2″
2.875″ x 2.375″
0.120″ x 0.109″
316/316L SS
CRS106S-300100
3″ x 1″
3-1/2″
3.500″ x 1.315″
0.120″ x 0.109″
316/316L SS
CRS106S-300125
3″ x 1-1/4″
3-1/2″
3.500″ x 1.660″
0.120″ x 0.109″
316/316L SS
CRS106S-300150
3″ x 1-1/2″
3-1/2″
3.500″ x 1.900″
0.120″ x 0.109″
316/316L SS
CRS106S-300200
3″ x 2″
3-1/2″
3.500″ x 2.375″
0.120″ x 0.109″
316/316L SS
CRS106S-300250
3″ x 2-1/2″
3-1/2″
3.500″ x 2.875″
0.120″ x 0.120″
316/316L SS
CRS106S-400150
4″ x 1-1/2″
4″
4.500″ x 1.900″
0.120″ x 0.109″
316/316L SS
CRS106S-400200
4″ x 2″
4″
4.500″ x 2.375″
0.120″ x 0.109″
316/316L SS
CRS106S-400250
4″ x 2-1/2″
4″
4.500″ x 2.875″
0.120″ x 0.120″
316/316L SS
CRS106S-400300
4″ x 3″
4″
4.500″ x 3.500″
0.120″ x 0.120″
316/316L SS
CRS106S-500300
5″ x 3″
5″
5.563″ x 3.500″
0.134″ x 0.120″
316/316L SS
CRS106S-500400
5″ x 4″
5″
5.563″ x 4.500″
0.134″ x 0.120″
316/316L SS
CRS106S-600200
6″ x 2″
5-1/2″
6.625″ x 2.375″
0.134″ x 0.109″
316/316L SS
CRS106S-600250
6″ x 2-1/2″
5-1/2″
6.625″ x 2.875″
0.134″ x 0.120″
316/316L SS
CRS106S-600300
6″ x 3″
5-1/2″
6.625″ x 3.500″
0.134″ x 0.120″
316/316L SS
CRS106S-600400
6″ x 4″
5-1/2″
6.625″ x 4.500″
0.134″ x 0.120″
316/316L SS
CRS106S-600500
6″ x 5″
5-1/2″
6.625″ x 5.563″
0.134″ x 0.134″
316/316L SS
CRS106S-800300
8″ x 3″
6″
8.625″ x 3.500″
0.148″ x 0.120″
316/316L SS
CRS106S-800400
8″ x 4″
6″
8.625″ x 4.500″
0.148″ x 0.120″
316/316L SS
CRS106S-800600
8″ x 6″
6″
8.625″ x 6.625″
0.148″ x 0.134″
316/316L SS
CRS106S-1000400
10″ x 4″
7″
10.75″ x 4.500″
0.165″ x 0.120″
316/316L SS
CRS106S-1000600
10″ x 6″
7″
10.75″ x 6.625″
0.165″ x 0.134″
316/316L SS
CRS106S-1000800
10″ x 8″
7″
10.75″ x 8.625″
0.165″ x 0.148″
316/316L SS
CRS106S-1200600
12″ x 6″
8″
12.75″ x 6.625″
0.180″ x 0.134″
316/316L SS
CRS106S-1200800
12″ x 8″
8″
12.75″ x 8.625″
0.180″ x 0.148″
316/316L SS
CRS106S-12001000
12″ x 10″
8″
12.75″ x 10.75″
0.180″ x 0.165″
316/316L SS
CRS106S-1400800
14″ x 8″
13″
14.00″ x 8.625″
0.188″ x 0.148″
316/316L SS
CRS106S-14001000
14″ x 10″
13″
14.00″ x 10.750″
0.188″ x 0.165″
316/316L SS
CRS106S-14001200
14″ x 12″
13″
14.00″ x 12.750″
0.188″ x 0.180″
316/316L SS
CRS106S-1600800
16″ x 8″
14″
16.00″ x 8.625″
0.188″ x 0.148″
316/316L SS
CRS106S-16001000
16″ x 10″
14″
16.00″ x 10.750″
0.188″ x 0.165″
316/316L SS
CRS106S-16001200
16″ x 12″
14″
16.00″ x 12.750″
0.188″ x 0.180″
316/316L SS
CRS106S-16001400
16″ x 14″
14″
16.00″ x 14.000″
0.188″ x 0.188″
316/316L SS
CRS106S-18001200
18″ x 12″
15″
18.00″ x 12.750″
0.188″ x 0.180″
316/316L SS
CRS106S-18001400
18″ x 14″
15″
18.00″ x 14.000″
0.188″ x 0.188″
316/316L SS
CRS106S-18001600
18″ x 16″
15″
18.00″ x 16.000″
0.188″ x 0.188″
316/316L SS
CRS106S-20001400
20″ x 14″
20″
20.00″ x 14.000″
0.218″ x 0.188″
316/316L SS
CRS106S-20001600
20″ x 16″
20″
20.00″ x 16.000″
0.218″ x 0.188″
316/316L SS
CRS106S-20001800
20″ x 18″
20″
20.00″ x 18.000″
0.218″ x 0.188″
316/316L SS
CRS106S-24001400
20″ x 14″
20″
24.00″ x 14.000″
0.250″ x 0.188″
316/316L SS
CRS106S-24001600
20″ x 16″
20″
24.00″ x 16.000″
0.250″ x 0.188″
316/316L SS
CRS106S-24001800
20″ x 18″
20″
24.00″ x 18.000″
0.250″ x 0.188″
316/316L SS
CRS106S-24002000
20″ x 20″
20″
24.00″ x 20.000″
0.250″ x 0.218″
316/316L SS
---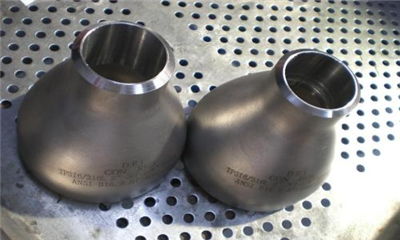 ---
Previous:
904L BW equal straight tee pipe fitting
---